<! COMMENT: start of first column of table - 295 wide - workparties >
<! COMMENT: start of sub-table 'announcements' >

<! COMMENT: next work party information >

Work parties

Please meet the leader in the car park, on Sunday morning at 10am.

February 10th.

We'll be continuing work in our new coppice plot in Moor Copse wood.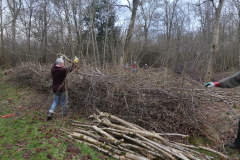 January work party, making the dead hedge.
Sunday January 13th - Steady progress with the coppicing was made as well as a good length of the dead hedge protection.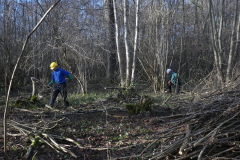 December work party.
Sunday December 9th - The heavy rain quickly cleared, the sun then shone on us for the rest of the day. We had a small bonfire and made steady progress with the coppicing.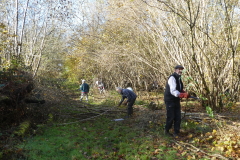 November work party.
Sunday November 11th - We made a start on the new coppice plot in warm-ish sunshine. The Roe deer was again seen in Arable field.
Sunday October 14th - The work party was cancelled due to heavy rain.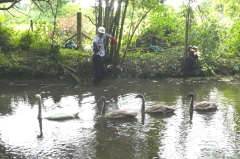 September work party.
Sunday September 9th - We cut back some large Hazel coppice, Sallow and Sycamore on the riverbank to let in more light to the bankside and riverbed. A Swan and three Cygnets glided past.
Sunday August 12th - What a difference from last month! A much more sensible temperature with a fine rain falling by the time we finished. We cut some overhanging trees back along the riverbank and pulled bracken in a scallop on Bradfield Ride. We then started to cut Poplar suckers in Barton's Field but had to give this up as the Dexters became too interested.
Sunday July 8th - An extremely hot day. We'd been asked to give Arable field and 5 acre one more check for Ragwort before the imminent hay cut, which we did. Also cut down the Poplar suckers in 5 acre and cleared around the sleeper bridge in Cottage field before calling it a day at lunchtime due to the heat.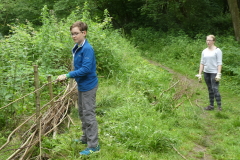 June work party.
Sunday June 10th - Today we repaired the area of riverbank protection by the Pang bridge with a new low 'fence' around it and the installation of two bundles of brash in the water to slow the water flow and encourage silt depostion in the protected area. Phil D. gave the riverside path a sweep over with his scythe. We watched Beautiful & Banded Demoiselles flying over the water by the bridge while we had lunch and also saw quite a number of small fish. A Signal Crayfish was also seen in the river. We pulled bracken in the main ride, Park Wood and also in the scallop on Bradfield Ride before having a quick look at 5 acre field - no ragwort to be seen yet. A start was made on dismantling the Allen Scythe shelter in the small field.
Sunday May 13th - The first of the summer work began with cutting the riverbank path which had grown quite high with the recent mix of rain and high temperatures. The boardwalk was repaired. A Comma was seen along the riverbank, several Beautiful Demoiselles and a couple of Scarlet Tiger caterpillars. We paused to look at our coppice plot where some of the Hazel has shoots a few inches in length already. We cut back some bramble from two paths in Park Wood. After lunch we finished the day by admiring a patch of Solomon's Seal in Bradfield Ride where we have pulled bracken for some years. Passing by the pond we were pleased to see some water crowfoot in flower.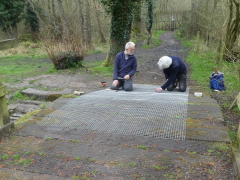 April work party.
(two volunteers on the slippery slope!)
Sunday April 8th - Successful day as all the coppice protection was completed, netting laid on the slippery slope of the Pang bridge, and rolls of plastic netting previously used as protection, moved to Arable field for removal to Woolley Firs. The rain held off until near the end of the day.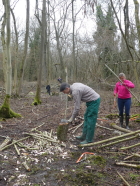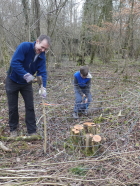 March work party.
Sunday March 11th - We nearly finished the coppice protection and layering today using the metal stock fencing with a couple of stools protected with woven brash and wood. A few Primroses were in bud and the green shoots of Wild Garlic covered a large part of the plot. Snowberry was cut down on the south side of the island. A male Brimstone flew across the plot, the first butterfly of the year for most of us. A Muntjac was seen in a recent coppice plot in Park Wood - compartment 8.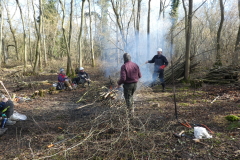 February work party.
Sunday February 11th - A cold beautifully sunny day. The cutting of coppice was completed and a great effort was made to remove all the netting from the adjacent plot. A start was made on re-installing it in the current plot. While having lunch we noticed a mass of small young shoots of Wild Garlic. A Little Egret gleaming in the sunshine, was seen flying overhead. There was a sudden hail shower as we were walking out at the end of the day.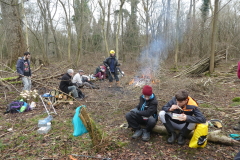 January work party.
Sunday January 14th - Good progress made with the coppicing which is almost finished. A start was made on removing the netting from the adjoining plot for re-use on ours. The only wildlife seen was a Violet Ground Beetle.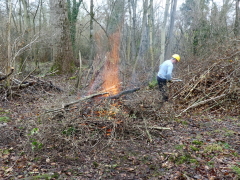 December work party.
Sunday December 3rd - We had a bonfire today to reduce the size of some huge brash piles, and also to cook potatoes, parsnips and sweet potatoes. (provided and cooked by Phil to perfection - many thanks!) A pair of Swans with a single Cygnet glided down the Pang.
Sunday November 12th - A cold day, good progress with the coppicing. A Buzzard flew over us quite low as we prepared to start work. A door snail was found on a Hazel stem, and two Wych Elms in the adjacent plot.
Sunday October 8th - We started work in our new coppice plot in Hogmoor Copse. A mild day with the sun coming out in the afternoon.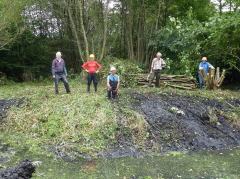 Working on the pond September 2017 .
Sunday September 10th - The small pond in Park Wood had become rather shaded by trees so today we cut back some tall willow, hazel and Alder coppice to let in the light. Phil did a lot of silt removal so that by the end of the day there was proper open water in the pond rather than black sludge. John found a dead Mole nearby in Bradfield Ride that had been dug out of its burrow by something. Also seen, a splendid bronze Dark Bush Cricket on the kissing-gate into 5 acre.
Re-installing a deer gate August 2017 .
Sunday August 13th - We reclaimed the fallen deer gate that was rapidly being absorbed into the earth in the tree planted area. We moved it across 5 Acre to the small field entrance and re-attached it. This was its original position. We also cut Poplar suckers/small trees in both fields. Before lunch we had a look at our coppice plot in Moor Copse wood. The regrowth is really good with no deer damage so far. Plenty of Speckled Woods and Hawker dragonflies about, and a Buzzard calling.
Sunday July 9th - A hot day so we started by doing thistle pulling in Wigley field hoping the heat hadn't had time to build up - a vain hope! So after an hour we retreated to the riverbank where we cut back some Hazel, Willow and Sycamore which was shading the bank. Several Small Coppers in Wigley field, Marbled Whites in 5 Acre, and 5 or 6 Silver-washed Frillaries along the riverbank. No sign of the elusive White Admiral though.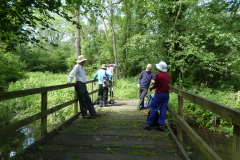 Taking a break on the bridge.
Sunday June 11th - A Scarlet Tiger moth was seen on the riverbank as we cleared the path, we then paused a while on the bridge where a Kingfisher flew past us upstream. We moved into Park Wood where we pulled/cut bracken along the main ride, by the pond and a scallop in Bradfield Ride. After lunch we removed stakes and plastic tree shelters from the planted trees in Arable field. Large Skippers and Common Blues seen in the meadows and several Speckled Woods in the woodland areas.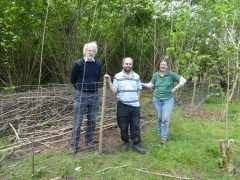 Protective netting in place
Sunday May 14th - A warm and sunny day. We put up a mixture of plastic and wire netting around the coppice plot to prevent access by deer, we hope! Some layering of Hazel also done.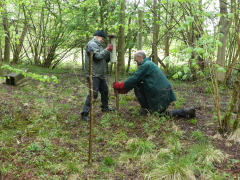 Putting in the last post
Monday May 1st - This was a replacement date for the cancelled April one. We layered quite a lot, if not most, of the Hazel, and put in the stakes for the coppice protection around the plot.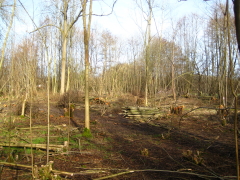 March 2017
Sunday March 12th - Today the group cut the rest of the Hazel and cleared many logs and brash from trees that had been felled for us by staff and trainees from the Berks office. So that's the end of coppicing for this season. The plot is looking really good and open, it will be interesting to see what comes up this summer and the next.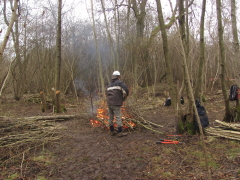 A welcome fire
Sunday February 12th - We made good progress with the coppicing. The bonfire was very welcome as it was a cold and gray day. Very quiet except for a party of about 6 Long-tailed Tits seen in the Alder tops in our plot. A Buzzard called in Arable Field as we were leaving for the day.
Sunday January 8th - A foggy start with light rain, however by the time we reached the worksite, conditions had improved. A Roe Deer was seen in the Arable tree planted area, and a Green Woodpecker in Arable field. We continued cutting Hazel, and Alder ranging in size from medium to huge. All the tree and shrub growth here is very tall due to the tremendous success of the previous layering of Hazel which has resulted in very dense regrowth forcing the stems to grow ever taller in their search for light. The plot is also quite low lying and damp so this may also be a factor.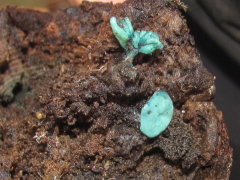 Green Elfcup fungus
Sunday December 11th - We were very lucky to have a day of winter sunshine between gloomy days before and after. The brightness encouraged out at least four Orange Ladybirds, seen on a Hazel stem. These are increasingly reported but were uncommon in the UK until the late 20th century. A Treecreeper was seen on a large Cherry and at the base of an Alder coppice. Some Green Elfcup fungi was found showing the blue -green staining of the wood, and also the fruiting bodies, which are less often seen. We had potatoes, parsnips etc cooked in the bonfire, thanks to Phil for bringing and cooking them!
Sunday November 13th - A lovely sunny day for us as we continued in the coppice plot.
Sunday October 16th - We started on the new coppice plot today which is in the far north eastern corner of Moor Copse wood. There is lots of very dense Hazel with some mature Alder coppice and large standard Ash. When doing the recce a few days previously, I found a good patch of Sulphur Tuft fungi on a massive fallen Poplar.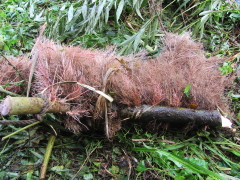 Willow roots removed from the Pang
Sunday Seprember 11th - Overhanging branches of Sallow were cut back from the Pang letting in more light. Some had dropped so low they had rooted into the river bed. (see photo above) A Sallow was coppiced and an Alder cut back on the woodland side also to let in more light to the riverbank. A good start was made on removing the protective netting from coppice stools in compartment 6 Park Wood. We finished off by moving large sections of an Ash tree which had previously fallen and been cut up but were blocking access through the road gate ride. A Buzzard circled quite low over Arable field as I crossed to the far side to count the cattle.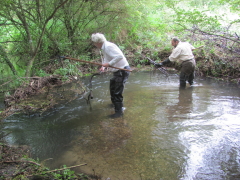 Clearing a blockage on the Pang
Sunday August 14th - We cleared some debris blocking the Pang. This included large chunks of tree and branches as well as assorted rubbish. Bracken was pulled in the small scallop on Bradfield Ride. We've been doing this for 3 or 4 years and it is making a difference allowing other plants such as Solomon's Seal to flower. 10 Dexters are now on site in Barton's Field.
Sunday July 10th - We cleared back along the riverbank footpath also the path leading to the the Sulham Brook from Corner field. We then retired to our coppice plot and continued with the protection. Nearly all the unprotected Hazel & Ash stools have been grazed down by deer. Most of the obvious Ragwort was pulled in 5 Acre field. A warm day, quite a few butterflies around - Meadow Brown, Ringlet, Marbled White and Large Skipper. I saw my first Silver-washed Fritillary of the year in main ride Park Wood and two in Vinula Ride, Hogmoor Copse.
Sunday June 12th - We continued working on the coppice protection by weavng brash around hedging stakes. There is already signs of deer damage on the unprotected stools to the new coppice regrowth.
Sunday May 8th - A very hot and sunny day, about 26C. Quite a few Orange-tips and Brimstones seen, plus a Speckled Wood. We continued with the coppice protection and layering. The logs had all been stacked by CROW on their task two weeks ago. They had done coppice protection as well. The Bluebells are a bit past their best now but the Early Purples are looking splendid, it's unusual for them to be at their peak after the Bluebells. A small patch of Goldilocks buttercup was found in the coppice plot.
Sunday April 10th - A start was made on putting up the coppice protection.
Sunday April 3rd - We had an extra work party to burn up large amounts of brash from trees felled by staff last week. Again we saw a probable Peregrine fly over us at about lunchtime.
Sunday March 13th - It was overcast to start with but quickly turned into a beautiful day, sunny with little wind. We continued with the coppicing but had to leave some large alder which may be cut later by a member of staff. A Buzzard circled over us, then another bird flew past - probably a Peregrine.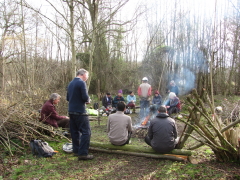 Lunchtime February 2016
Sunday February 14th - A bright and fairly cold day with mellow sunshine. We saw a Kingfisher fly downstream as we walked in along the riverbank. We continued with the work in the coppice plot. A few Scarlet Elf Cup fungus were seen on the riverbank.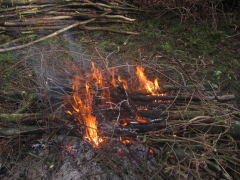 Bonfire, January 2016
Sunday January 10th - The weather was better than expected with sunshine and very little wind. On our way in to the work site, a Kingfisher was seen on the Pang. We were fortunate while having lunch to have a lovely view of a Peregrine as it flew fairly low above us heading south-east. Violets were in flower in the coppice plot. The Pang, while high, hasn't burst its banks yet.
Sunday December 13th - We continued with the coppicing, again with a bonfire. Phil had brought along some potatoes and parsnips to cook in the fire which were much appreciated! we also enjoyed jam doughnuts and mince pies.
Sunday November 8th - A very mild day. We had a bonfire this time, and checked the cattle at the end of the day. Last week contractors cut down a large Alder by the Pang bridge and used it to strengthen and protect the eroded riverbank here. There are now 5 more Dexters in 5 acre field.
Sunday October 11th - We started on the new coppice plot - compartment 8(subdivided from the bigger comp 15). With the leaves still on the the trees, we didn't have a fire this time. The weather was warm and bright.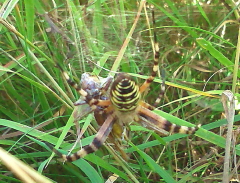 Wasp Spider with cricket in web. photo Ailsa Claybourn
Sunday September 13th - We coppiced some Hazel and cut back Willow along the river bank to let in more light, and cut back most of the Snowberry on the island. A Kingfisher flew down the Pang. After lunch we looked for Wasp Spider in Corner field where they had been seen in August, but no luck today. However we did see a few Dark & Roesel's Bush-crickets. Four Mistle Thrushes flew over 5 acre field and we saw a Kestrel over Barton's. Overnight a trail camera had snapped a Fox in our coppice plot. (see photo in centre strip)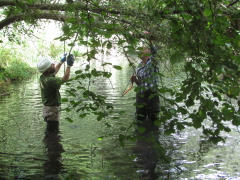 Cutting down an overhanging tree
Sunday August 9th - As the Pang was so low we took the opportunity to cut back an overhanging Sallow near the bridge whose leaves were trailing in the water. We also did some more coppice protection, cut a small patch of bracken on Bradfield Ride and mended a gate. There is a large area of Water mint in the current coppice plot which had many butterflies feeding on it including at least 6 Peacocks and various Whites and Browns.
Sunday July 12th - We gave the riverbank a trim back including some overhanging trees, pulled Bracken in main ride, Park Wood, almost completed the coppice protection and pulled Ragwort in 5 acre field - this last job was done as we are expecting the meadows to be mown soon.
Sunday June 14th - We cut back the riverbank path, then continued with the coppice protection in our current plot. Noticed that the Hazel & Ash stools not protected last time had had their regrowth browsed down by deer. Large encroaching Bramble stems cut back along Hodsoll and other rides, Bracken pulled/cut in main ride Park Wood. We were lucky and saw a Kingfisher fly downstream as we got to the Pang bridge, and 2 adult Swans with one cygnet sailed past as we worked on the riverbank.
Sunday May 10th - The riverbank path was cut back, then coppice protection was put up around most of the stools in our current plot.
Sunday April 12th - A hot day spent layering Hazel stems which will hopefully result in an increased density of coppice stools eventually. Peacock, Brimstone and Orange Tip butterflies seen. The wild bees were very active in the large Ash in the coppice plot.
Sunday March 8th - We spent most of the day clearing the tops of large trees that staff felled for us last week. The resulting large bonfire was ideal for cooking Phil's potatoes and sweet potatoes he's been bringing on every task for us since December - very welcome!
Sunday February 8th - Sunny and warm (for the time of year!). Bluebell and Primrose leaves now visible. Our March work party will be the last coppicing task until the autumn. .
Sunday January 11th - A cold, but mostly sunny day. We carried on with the coppicing, the plot is really looking much more open now.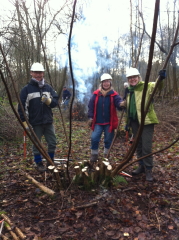 Cutting Hazel coppice. photo Gill Kendon
Sunday December 14th - A Buzzard flew from a tree in Park Wood as we approached along the riverbank. The Pang is quite low but flowing fairly fast. A dry, bright day - we continued with the coppice plot leaving 2 or 3 Hazel stems to be layered at the end of the cutting season. Our first bonfire of the winter, useful for warming mince pies!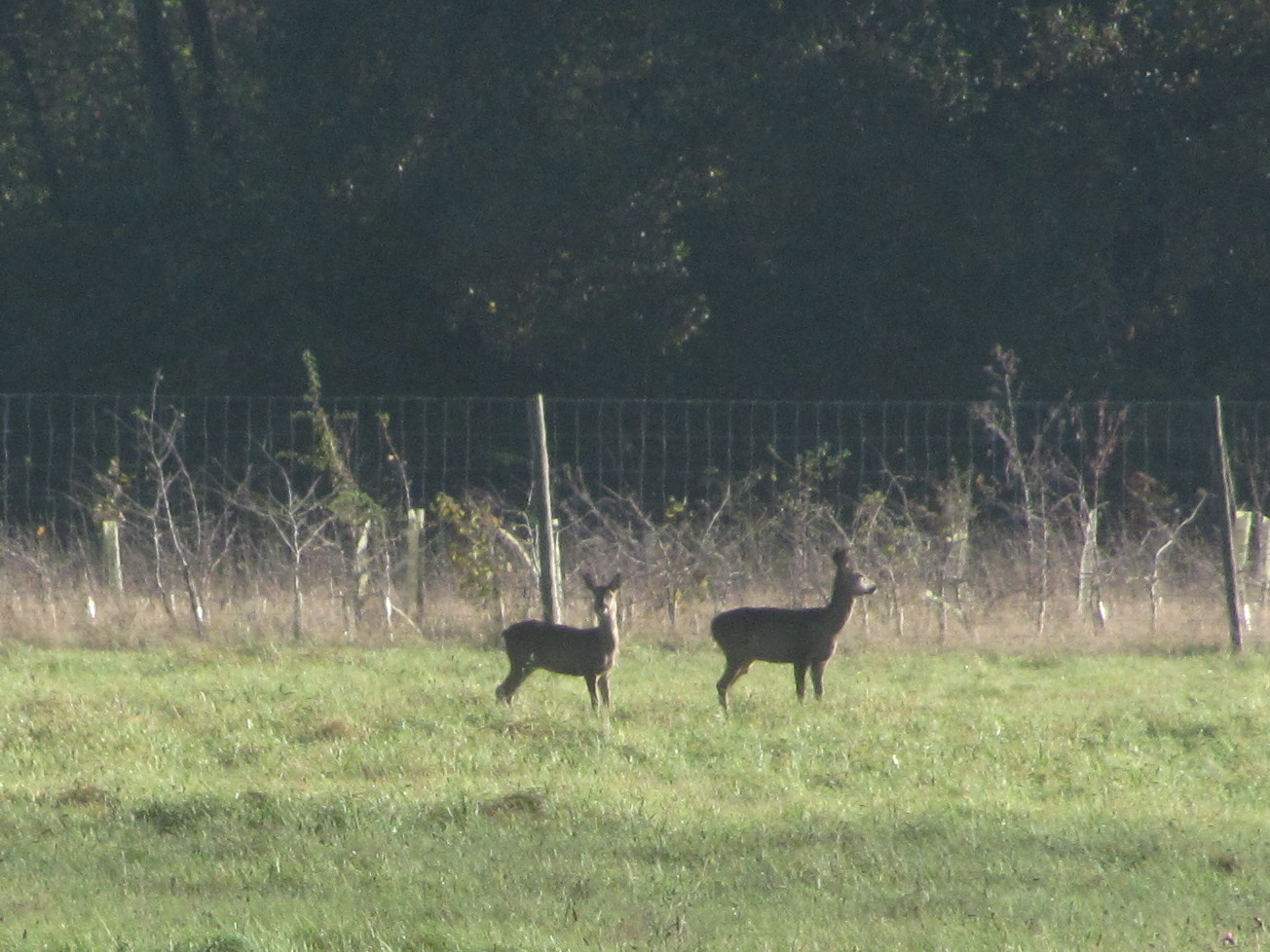 Roe deer in Arable Field.

Sunday November 9th - We checked the cattle on our way in and saw 2 Roe deer far away in Arable field in hazy sun. We then continued with coppicing on a bright warm day. Hazel and other small trees still have their leaves so we had no bonfire this time. A Comma settled high up on the trunk of an Ash tree to take advantage of a spell of sunshine. A Woodmouse was found in one of several dormouse boxes which will be moved to another location close by to allow the compartment to be coppiced.

Sunday October 12th - Today we started on this years' coppice plot in Park Wood. It was cut about 12 years ago and has much Hazel, with some Ash in the narrow boggy area. One of the 5 planted Crab Apple trees grown from Moor Copse seed was found to have fruit on it at the very top of what is now a well grown tree. Close by we noticed wild bees were very active at a nest in a hole high up in a large Ash tree.

<! COMMENT: end of sub-table 'announcements'>
<! COMMENT: start of second column of table - 10 wide - blank space >
<! COMMENT: start of third column of table - 160 wide - center photos >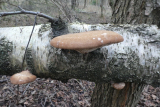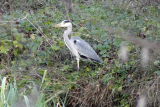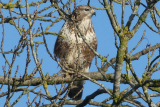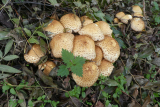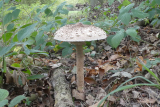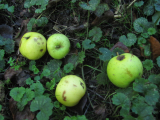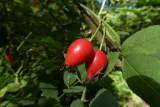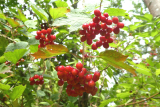 <! COMMENT: start of fourth column of table - 10 wide - blank space >
<! COMMENT: start of fifth column of table - Anne's notes - takes remaining width - 275 pixels? >

Anne's Notes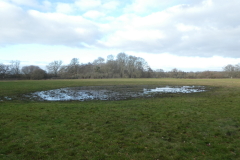 Corner Field January 2019
January 14th - A female Bullfinch was eating buds of the Cherry Plum by the car park, and we saw a party of Redwing fly through the trees in Hogmoor, otherwise the reserve was fairly quiet. The fallen Oak near the entrance has been partly cleared so that the riverbank path is now accessible. Despite the recent relatively dry weather there is a pool of standing water in Corner field.
January 7th - We had a walk through the old reserve and took down some more plastic netting protecting the coppice stools which are now well grown and no longer in need of it. Sad to see it around Ash stools which regenerated well but are now dead due to Ash Dieback. We saw groups of Siskins in the treetops in Park Wood and one or two Marsh Tits, also a large Roe deer. All the Holly berries have long gone but there are still quite a few red berries of Guelder-rose brightening up some of the rides.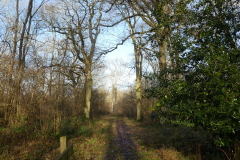 Main ride, Moor Copse wood, looking north December 2018
December 22nd - The Pang has risen a little with the recent rain. We surprised a Heron near the island and it flew away returning later further downstream. Near the island a large branch of an enormous Poplar had broken off and fallen across the path and into the river. We cleared away as much as we could but had to leave the main branch on the path though it can be easily stepped over. The partial ring of Blewits is still there in the south end of 5 acre, but they are looking rather soft and soggy now.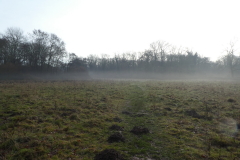 Barton's Field December 2018
December 16th - A cold brightish morning with mist lingering over the meadows. The Pang has risen quite a lot with the recent rain. Not far from the reserve entrance there is a large Oak whose top has broken off. It has a thick growth of ivy and blocks the path and almost the river too. This will be cleared by a contractor. We saw a mixed group of Great & Blue Tits and a single Marsh Tit in a coppiced area of Park Wood, also a Nuthatch.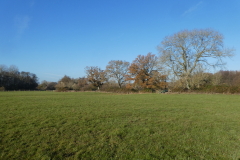 Corner Field November 2018
November 18th - A day of bright sunshine. A Green Woodpecker flew away from us in Arable field. Leaves have fallen over the last week from many trees leaving golden carpets underneath. Some of the Oaks within the woodland still have some green leaves, but the hedgerow trees are brown. Alerted by a Jay's alarm call, we saw a Buzzard fly low through our new coppice plot. We measured a large Ash coppice stool nearby and found it was 6.6m girth.
November 4th - We saw a Roe deer again today in River field, possibly the same one as last Sunday. There's good growth in the fields which were cut in summer with plenty of new grass to keep our six Dexters happy. Pink Spindle berries are now fully open showing their seeds clothed in bright orange covering. Lots of Holly berries too. A small party of Long-tailed Tits twittered above us as we made repairs to a gate in 5 acre field.
October 28th - A chilly morning, about 6C. On our way through to check the 8 Dexters in Cottage/Arable Fields, we saw a Grey Wagtail on the road over Hogmoor bridge searching for food among the fallen leaves. A Roe deer bounded away along the edge of Arable field when it saw us. A calling Buzzard flew low over Corner field harassed by two Crows, and a flock of at least 30 thrushes flew overhead. There were quite a lot of very small crab apples beneath one of the planted trees in Park Wood, but the other tree had none. We saw a Marsh Tit by the Pang bridge.
September 2nd - A warm morning with clear blue sky. The Dexters are in Arable field now and we found them under the shade of an Oak tree. In the meadows, with the help of recent rain, there is fresh green grass coming through after the haycut. Several Green-veined White butterflies seen and a Speckled Wood. Many Ash trees, large and small, look in a sorry state with the signs of Ash Dieback. We saw a medium sized Toad on the riverbank path, and a tiny frog in last year's coppice plot in Hogmoor Copse.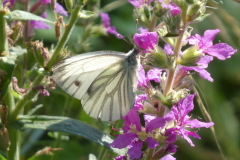 Green-veined White on Purple-loosestrife, August 2018
August 5th - A very hot morning, the cut fields are still parched and straw coloured. There was a splash of purple in the uncut patches of Cottage field where Purple-loosestrife is still in flower. The 8 Dexters in Barton's Field - which was not cut, were standing in shade next to the bowser. The southern end of 5 Acre which was left unmown, had plenty of Fleabane, Water Mint and Marjoram to attract butterflies such as Meadow Browns, Gatekeepers, Green-veined Whites and Common Blues. Many flowers have already gone, shrivelled and dead due to the prolonged hot and dry weather, but the berries of Guelder-rose were providing colour already in Park Wood, with a large number of Green-veined Whites on Water Mint in a ride close by. On the riverbank Hemp Agrimony was in flower - a favourite of many insects.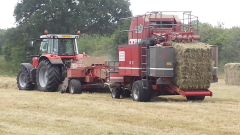 Hay baling July 2018 (photo John Lerpiniere)
July 16th - The hay cutting and baling by contractors is almost completed.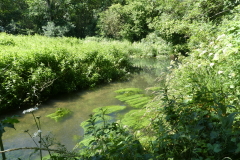 River Pang June 2018
June 22nd - A beautifully clear sunny morning. Lots of Marbled Whites, Meadow Browns and Ringlets in 5 acre and Arable field and a couple of Small Tortoiseshells in River field. Parts of Arable field are colourful with Knapweed, Meadow Vetchling and a few patches of Great Burnet in the tree planted area. A Grey Wagtail flew across the Pang near Hogmoor bridge.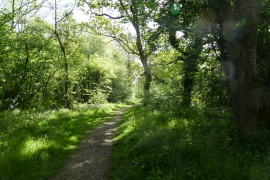 Park Wood main ride May 2018
May 11th - Quite a few Beautiful Demoiselles along the riverbank and some of the woodland paths. We saw a Scarlet Tiger moth and a Drinker caterpillar on Comfrey. Also a Mallard with three chicks, and a Kingfisher along the Pang. In Park Wood resting in the occasional sunshine, were two Broad-bodied Chaser dragonflies. The spring flowers are now giving way to those of early summer although bluebells are still lovely in the bracken patch in Park Wood.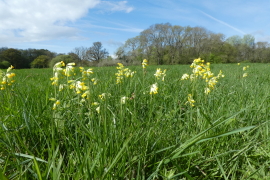 Cowslips in Corner Field April 2018
April 28th - A cold and gray day with rain threatening for the BBOWT bluebell walk. We saw three Scarlet Tiger moth larvae along the riverbank, and an Orange-tip butterfly resting with closed wings. A couple of Brimstones seen too, and a long horned moth. The bluebells in Park Wood are at, or just before their peak, Goldilocks buttercup is flowering now just inside the gate, this patch has grown in size over the last few years. There are a few Early Purple orchids in flower but the number is drastically down this year. Cowslips in flower in Corner Field, also Marsh Marigolds and a very large area of Ladies Smock. There is still a small lake in Cottage Field, but no sign of the two Herons and two Canada Geese that were here on Thursday. Returning to the car park we admired the large clusters of seeds hanging on the Wych Elms near the lay-by as a Buzzard circled low overhead.
April 12th - Still very wet everywhere after more recent rain. The river is high and flowing fast along the straight stretches. We found some patches of Ladies Smock by the ditches almost fully open, and in places, an occasional Solomon's Seal coming up. Plenty of violets and wild strawberry in flower, and a couple of very early bluebells.
April 6th - The floodwater has subsided and the riverbank footpath is now accessible. Quite warm as I walked round with Roger Stace (Berks Land Manager). We saw a Kingfisher near the island and a Grey Wagtail near the entrance. The pond in Park Wood is very full and has a small clump of frog spawn, not seen here for a few years. We heard Chiffchaff in Moor Copse wood and saw a Brimstone. The Wood Anemones are out here and the many Primroses everywhere are looking at their best.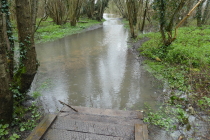 Flooding at reserve entrance April 2018
April 2nd - The Pang has overflowed near the reserve entrance making access difficult and dangerous as the riverbank edge has disappeared under floodwater. Much of Hogmoor Copse is under water too.
March 25th - Quite a mild still day. We heard a Raven croaking in the distance and a Buzzard calling overhead. The Ramsons is showing very green now forming large carpets over our coppice plot, it appears to be much more abundant than in previous years. Primroses in flower everywhere, with Dog's Mercury well grown and in flower. Lots of Early Purple leaves seen in the usual place in Park Wood.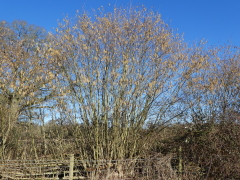 Hazel catkins February 2018
February 12th - A clear, cold sunny day. Ice on standing water in Corner Field and many footpaths hard with frost. Several Red Kites and three Buzzards over Park Wood. We saw a Coal Tit in Bradfield Ride, and a Goldcrest in the large Spruce there and heard a Nuthatch nearby. The pond that we cleared in the autumn is full of water with a layer of ice on the surface. We saw a Marsh Tit among the Alders in Hogmoor.
January 28th - A very mild day at 11C. Seven Dexters have been moved leaving seven remaining for a few more days. Two Bullfinches seen in Moor Copse wood and also a couple of Primroses in full flower. Snowdrops out in Park Wood and on the riverbank, where a Great Tit was singing.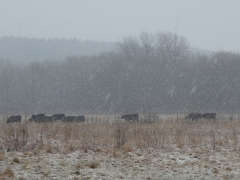 Dexters in snow January 2018
January 21st - A very cold, windy day with light snow. The Dexters are nearing the end of the their stay at Moor Copse and will soon be moved to other BBOWT reserves.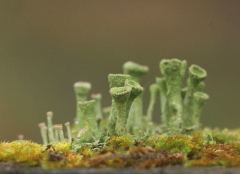 Cladonia fimbriata. (photo Sue White)
December 26th - This tiny lichen was found on the Pang bridge. Sue's great photo shows that there is fascinating wildlife to be found even on dark winter days.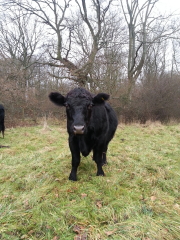 Cottage Field, December 2017. (photo Robin Booth)
December 24th - A very gray and damp morning but the Dexters looked happy enough in a sheltered corner of Cottage Field. Not many birds seen or heard apart from a Green & a Great Spotted Woodpecker, and a Nuthatch.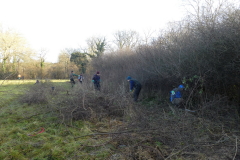 Cutting back Blackthorn in 5 Acre.
December 14th - A lovely sunny day for the Mid-week team's Christmas BBQ. This was set up in the tree planted area next to 5 Acre where the volunteers started on the mammoth task of reducing the amount of Blackthorn on the southern edge of the field.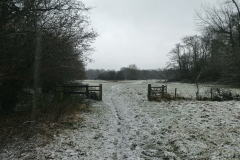 Snow in Cottage Field, December 2017
December 10th - A very cold, wet and dark morning with snow on the ground, which had fallen overnight.
November 26th - Frosty, sunny morning. When checking the Dexters in Arable Field we disturbed a Buzzard who then circled around then perched in a tree at the edge of the field. A bright Robin came over to the pasture pumps as we disturbed the ground beside them. Next years catkins are already fully formed on the Hazels. Most of the leaves have fallen now from all tree species.
November 5th - A cold but sunny morning. After checking on the Dexters, we saw a late and rather battered Red Admiral on the track in Arable field. A small flock of Goldfinches were feeding on the seedheads of Knapweed and thistle here too. Leaves are still on most of the trees including Oak and Hazel, but the Ash trees are mostly bare, probably because of Dieback. This fungal disease will completely change the character of the reserve if it is as bad as feared.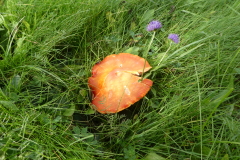 Waxcap & Devil's-bit Scabious
October 15th - We now have six Dexter cattle in River Field who were moved here last Wednesday. There is certainly a lot of grass to keep them happy. A Kestrel flew away as we approached, and we saw a Red Admiral flying along the margins of Arable field. Some Knapweed still in flower in most of the meadows.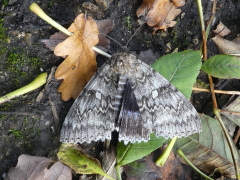 Clifden Nonpareil moth Oct 2017
October 2nd - Just a quick visit this morning. An exciting find just inside the gate from Arable field to 5 acre field - a Clifden Nonpareil moth. They are rare immigrants to the UK, but a few have been seen in recent weeks so they may be having a good year, or possibly breeding here. It caught my eye as it was lying on its back on the ground and was very pale underneath, and large! On turning over we found it had lost a leg and did look a bit faded, but it was alive so we set it right way up on a post.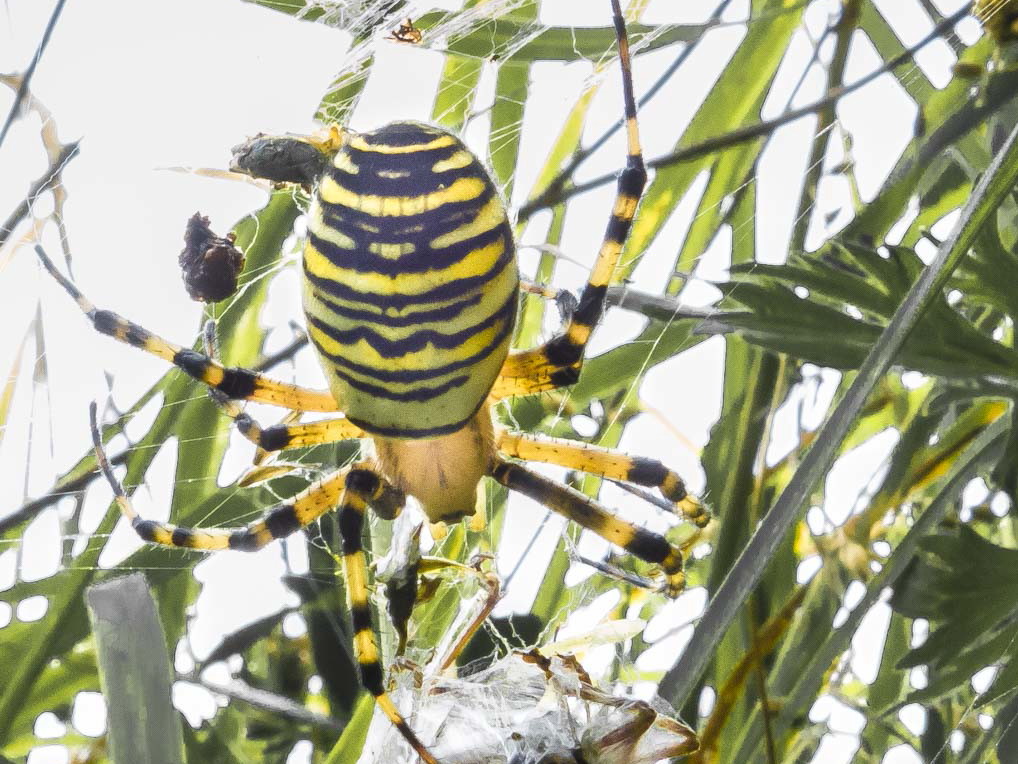 Wasp Spider August 2017
August 3rd - BBOWT's Mid-week team were out today doing several jobs including the never-ending battle with Bracken in the aptly named 'bracken patch' in Park Wood. While clearing the area for the new cattle pen in Arable Field, this amazing Wasp Spider was seen (photo John Ashford).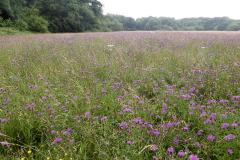 Knapweed purple haze, July 2017
July 17th - The contractors were out this morning cutting the meadows, except for Arable and Barton's Field. There were at least 10 Red Kites circling behind the tractor and coming down to pick up any casualties from the cutters - just like seagulls do. It was the last chance to see the extraordinary flowering of Knapweed in Corner Field.
June 13th - Quite a few Meadow Browns, the first for me this year. We saw a Kestrel and a Buzzard over Arable field. This is looking very good with lots of Birds-foot Trefoil , Knapweed and some Goatsbeard (or Jack-go-to-bed-at-noon). A large patch of Great Burnet in River Field.
May 28th - A warm bright day. We went in to check the fence around our coppice plot. All intact so far with no intrusions by deer seeking to graze on the fresh young coppice regrowth. We saw a male Broad-bodied Chaser near the Pang with quite a few Beautiful Demoiselles. A Buzzard was being harried by a Crow over Moor Copse wood. The Spring flowers are giving way to the summer ones with Foxgloves in flower in some of the rides. The honey bees are active in the Ash tree where we have seen them for the last four years.
May 5th - Thanks to frequent sunny spells we saw several female Beautiful Demoiselles along the riverbank, although quite cold at 12C. On our way through to Moor Copse wood one or two Speckled Woods, Peacocks and Orange Tips, made an appearance. A Buzzard flew off from a tree near the Spruce plantation in Park Wood. The Bluebells have wilted a little in the woodland areas, but those in the bracken patch are still beautifully blue. The small, bright star-like flowers of Yellow Pimpernel have appeared in some of the rides.
April 29th - Jan led a well attended walk this afternoon for BBOWT, 35 people came along to enjoy the Bluebells, Early Purple Orchids and other Spring flowers. We saw some flowers in the meadows too including the bright yellow splash of Marsh Marigold, and close by - Cowslips, Ladies Smock and Water Avens. A beautifully fresh Small Copper butterfly was seen on Ladies Smock in Corner Field.
April 24th - Fairly cold and overcast this morning. The pale green bunches of seeds clustered on the Wych Elm by the entrance very noticeable. Despite very little rain, everything is growing including the nettles along the riverbank path! There are bright patches of Large Bittercress at the river's edge together with the dark brown spikes of sedges. Goldilocks buttercup is in flower now and can be seen in several places including just inside the entrance gate to Park Wood. The Bluebells in the woodland areas are looking and smelling lovely, those in the bracken patch a bit later as usual.
March 25th - A lovely sunny morning. Birdsong much louder than a week ago. The Swan was feeding in the Pang. Work has been done by the bridge to protect the riverbank from erosion caused by dogs entering the water, and new edge plants have been planted. Early Purple leaves are well up and the woodland floor is green with bluebell leaves in places. We noticed the patch of Wood Sorrel with one or two flowers about to come out, while there are good patches of Wood Anenomes in flower in Moor Copse wood. On our circular walk round we saw 3 male Brimstones, 1 Small Tortoiseshell, 1 Red Admiral and Comma butterflies.
March 13th - John and I went out to burn up a bit more brash in the coppice plot. We were treated to an aerial display by two falcons, one definitely a Kestrel, they called loudly and circled for some minutes. A lovely day, we also saw three male Brimstones and a Comma. On the way out by River field entrance we heard our first Chiffchaff of the year.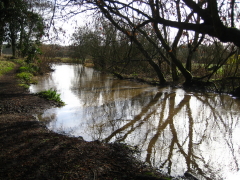 River Pang after rain, March 2017
March 4th - The Pang was flowing fast and very brown with soil that had been washed into it after the recent heavy rain. The water level was much higher than a few days ago. Pussy Willow catkins are silver along the riverbank, and we saw Wrens darting in and out of the bankside vegetation. Much more birdsong including Song Thrush and a Buzzard calling over Park Wood.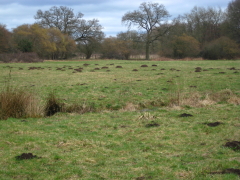 Molehills in Cottage Field, February 2017
February 26th - Overcast and mild - 10C. Lots of birdsong, groups of Siskins and Redwings seen. Primroses are in flower in places and Hazel catkins are fully open forming long tassels. An Oak tree has fallen at the edge of Barton's field, probably in the gales last week. We've seen so many Molehills this year, especially in River Field, and in Cottage Field - see photo above.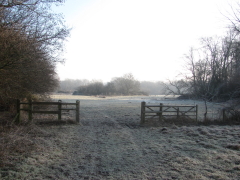 Looking towards Cottage Field, January 2017
January 22nd - A very cold, still and frosty day. The ground underfoot rock hard with occasional pools of ice, except in some of the woodland areas. A Nuthatch, some Wrens, Robins and a couple of Fieldfares seen, but mostly very quiet.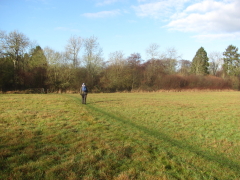 Crossing 5 Acre in December sunshine
December 22nd - The sun very welcome today, although cold. Many molehills have appeared since Sunday in Cottage field on the higher areas. Few birds heard today apart from a Song Thrush in Park Wood and two Swans on the Pang again. We noticed that all the Holly berries have gone from the bush near Baker's Ride, two weeks ago there were plenty to see.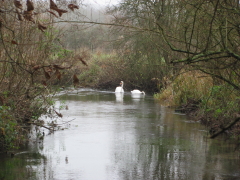 Swans on the Pang, December 2016
December 18th - A dull foggy morning. The Dexters looked rather miserable standing in Wigley field in the dampness. Lots of Siskins in the Alder-tops in Park Wood, with Nuthatch and Song Thrush calling.
December 4th - The Dexters were moved a couple of weeks ago and now have the run of four fields. They have been favouring Wigley field since their move, the Oak tree by the fence offers shelter and a sunny spot. An overcast and cold morning, not many birds seen except a Nuthatch and a pair of Mallard on the Pang.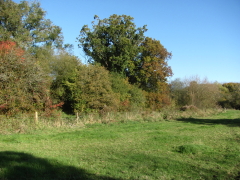 Autumn colour and lengthening shadows in River Field
November 6th - A lovely sunny, but cold morning. We saw frost for the first time this year at the ride edges and in last year's coppice plot - where we surprised a large rabbit. An adult Swan and Cygnet were again very busy feeding on weed in the Pang. A Buzzard flew low over River field. We counted the Dexters as they followed each other away from their water supply in River and into Arable field, which they seem to prefer.
October 2nd - Lovely to see a Red Admiral in River field and a Small Copper in Arable field as we were checking the cattle and water supply. A Buzzard circled overhead. The berries on Guelder-rose were shining red in the warm sun.
September 25th - BBOWT's Dexter cattle are still grazing Arable and River fields. Mid-week team and staff have cut and raked most of the main rides, but some flowers including Water Mint and Comfrey are still to be seen along the ride sides and riverbank attracting bees and hover-flies.
August 4th - The meadows were cut and the hay baled and removed a few days ago. Many butterflies were still to be seen though in the flowery margins. A Buzzard called and flew low over us as we walked along the riverbank. Near the Spruce plantation we heard the call of a young Sparrowhawk or Buzzard.
July 21st - BBOWT's Mid week team were out today pulling yet more Ragwort and Thistle from the meadows before they are cut for hay. There were many butterflies in 5 acre including Marbled White and Meadow Brown. I looked hard for White Admiral in Park Wood but no luck. Lots of Green-veined Whites, a couple of Silver-washed Fritillaries and a Peacock though, and a Comma on the riverbank. Nettle-leaved Bellflower and Enchanter's-nightshade still in flower in Park Wood with Water Mint soon to follow. The honey bees were very active in the large Ash in last years coppice plot.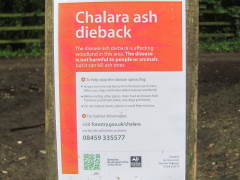 July 10th - BBOWT staff have put up a notice in the car park warning people of the confirmed presence of Ash Dieback or Chalara in Moor Copse. Forestry Commission advice to help stop the spread of the disease is to scrape mud and leaves from footwear, dogs, etc before leaving the site.
May 13th - Another visit with Karl to fell a couple of dangerous leaning trees in Vinula Ride. He was also able to partially cut up the large Ash which had fallen across the end of the road gate ride. Near it is a nice patch of Water Avens, with large areas of Ramsons in flower too. Common Dog-violets are plentiful in this part of Hogmoor with splashes of Wood Spurge glowing in the bright sun. There was a male Beautiful Demoiselle by the Pang, the first I've seen here this year.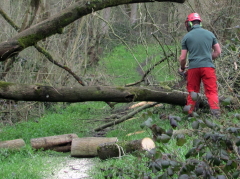 Clearing a fallen tree from a footpath
April 11th - We went out with the BBOWT tree and woodland officer, Karl Lofthouse, who chainsawed felled trees in our coppice plot into more manageable lengths for moving to rideside stacks. He was also able to clear an Ash and Alder which had come down in recent strong winds and had been blocking a footpath in Park Wood.
April 6th - We put back the mink raft in a slightly different place and then walked through to Park Wood. There has been a change in just in the space of a few days with more plants in flower. A nice patch of Coltsfoot in Hogmoor also Barren Strawberry and Violets along Vinula Ride. A Heron flew up from the edge of the Pang as we approached. In Park Wood there were a few more Bluebells out with Greater Stitchwort joining them. In the coppice plot we saw a Mistle Thrush perch in the top of a large Ash tree. Along the south edge of 5 acre there were several fragrant white Sweet Violets.
March 29th - The river level in the Pang has gone down a lot since yesterday when the entrance was under water. There is still standing water in most of Hogmoor but there is access along the riverbank path. A Grey Wagtail flew up from the floodwater as we walked in on the boardwalk. We saw 2 Swans in the Pang and a pair of Mallard in floodwater in Park Wood. One of the Mink rafts had been washed downstream and lodged in debris from where we were able to retrieve it. There is the occasional bluebell out in Park Wood. A Kingfisher flew upstream as we paused on Hogmoor bridge on our way out, and we heard there our first Chiffchaff of the Spring.
March 14th - The Dexters have been taken off now back to Woolley Firs, so no more stock checking for a few months. They have been on site for a long time this year, it feels strange without them. Lots of Celandines are out now, also Primroses. The green leaves of Bluebell are well grown forming a shining carpet under the trees especially in Hogmoor and Park Wood. Early Purple leaves are more obvious now but no sign yet of flower spikes. We saw a pair of Mallard on the river. The mink raft has been re-sited to a calmer spot with no signs so far of mink.
January 24th - The fallen Ash tree across the river has been cleared by BBOWT staff. There were just 8 Dexters to check on today as 5 were moved to Woolley Firs last week. Quite a lot of bird song, we saw 2 Long-tailed Tits and a Coal Tit in the Blackthorn thicket in 5 acre. The standing dead Horse Chestnut near the Spruce plantation seems to be leaning , having dropped some large branches a few weeks ago. Some of those branches have thick lichen growth which can now be seen more easily on the ground. Some Early Purple orchid leaves are up now in Park Wood. We saw a Goldcrest in a riverbank Sallow while checking the Mink raft.
January 13th - The Pang has subsided by nearly a foot since Monday but is still flowing fast. We looked up when hearing a croaking call and saw two Ravens overhead as they flew south along the Pang just skimming the treetops.
January 11th - We went out to do some tidying up in the coppice plot following on from the work yesterday. Many Nuthatches were singing in Park Wood and Hogmoor and we saw a pair of Bullfinch in the coppice north of the main ride. The Pang was nearly overflowing near the entrance, and on our return even more so. The river was rushing over the top of the large fallen tree near Hogmoor bridge.
January 3rd - Quite heavy rain and colder. The first Primroses are out in Vinula Ride and through Park Wood, but Hazel catkins remain tightly closed. With the recent rain the water level in the Pang has risen about a foot since last week, and the channels across Corner field and low lying parts of Cottage field are filling up too. We noticed many very large molehills especially in River and Cottage Fields.
5 Acre Field December 2015
December 28th - A very warm sunny morning. We saw a small group of about 5 Long-tailed Tits and a Marsh Tit in the Alders next to the bracken patch. Although Primrose leaves are showing well, there is no sign yet of the leaves of Early Purples. A Buzzard circled around Arable field. There is a string of very bright Bryony berries remaining along the track from the lay-by.
December 20th - A slightly colder day but still warm for the time of year at 12C. Very quiet with little birdsong except for a Nuthatch, a Robin, Blackbirds and Tits. The Holly tree near Baker's Ride has been stripped of nearly all its berries. 5 acre field is empty now as all the cattle have been moved into Arable field. A Buzzard flew away as we approached. The cattle noticed us when we came in to check their water supply. They trotted over and bellowed at us, maybe hoping we'd brought them a special treat of hay. We had a closer look at the Ash which has fallen across the river near Hogmoor bridge. It will be a tricky job to clear it, but BBOWT staff have made a start.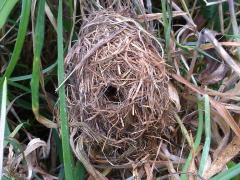 Harvest Mouse nest November 2015.(photo Ailsa Claybourn)
November 14th - A group of about nine people led by Dr Amanda Lloyd from Berks Mammal Group set out to search for Harvest Mouse nests this morning. We checked in Corner Field where 2 were found last year, and also Barton's field. 11 were found altogether. A flock of about 50 Redwing and another of 30 Linnets were seen flying over us, and a Buzzard flew low along the hedgeline between Bartons's and Corner fields.
November 1st - It was extremely foggy this morning which made it hard to find the cattle grazing the extension meadows. We found them eventually sheltering under an Oak tree in the far corner of Cottage field. There is still quite a lot of tall Knapweed in flower in Corner field. This has come up since the hay cut in mid July. We saw 4 Fieldfares chattering and calling in the top of the hedge between Arable and 5 acre field.
October 18th - A bright mellow autumnal morning with little wind. We did some tidying up in the coppice plot, clearing a space for the fire site. A Buzzard and a Red Kite flew overhead. A Pheasant and a Green Woodpecker flew up before us as we walked through Arable field to check on the cattle still in River field. As we came up to Hogmoor bridge we saw a Kingfisher fly upstream.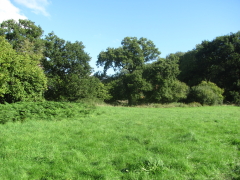 A quiet corner of Cottage Field, late September 2015.
September 27th - A sunny morning for our visit to check on the 8 Dexter cattle. We saw a pair of Mallard on the Pang and a Buzzard which flew into a tall Poplar in 5 acre field. It had become quite warm by the time we reached Cottage field, it could have been high summer. We saw a late Comma on Ivy flowers in the hedge with Arable field. As we have often seen this year, a Kestrel was hunting over Arable field.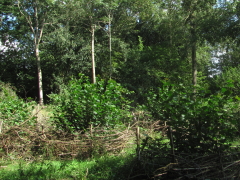 Coppiced Hazel regrowth, Park Wood.
September 1st - After the rain of the last few weeks the meadows are full of lush new growth. We went in through Arable field to remove some old metal fencing in Park Wood. There were a few Meadow Browns, Whites and a Peacock despite the gray weather. The sun came out for a while showing off the fresh new re-growth in the coppice plot and raised the temperature by about 10C! BBOWT's Conservation Trainees were making a start with cutting the rides using power scythes. The large timber cut in Park & Horsemoor Woods, and logs from the coppice plot have been extracted to Arable field.
August 5th - The boardwalk by the entrance has been partly taken up due to it being unsafe in a few places. It will be replaced at a later date. An overcast, slightly damp morning so few butterflies seen. The coppice is growing well in last winter's plot and we noticed a good crop of Crab Apples on the trees there. We wondered whether pollination had been improved by their proximity to the bees nest (still active) and the increase in light levels because of the coppicing. Two Kestrels (? young ones) were hunting in Arable field. The meadows which were hay cut a couple of weeks ago, are starting to become green again with new growth.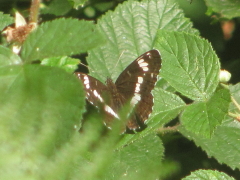 White Admiral.
July 9th - A sunny morning, not as hot as it has been. The Pang is now quite low but very clear. We saw our first Silver-washed Fritillaries of the year just by the Pang bridge. We were very pleased to find a White Admiral in the main ride in Park Wood, the first one confirmed for a few years. Turning the corner into Bradfield ride we came across a Scarlet Tiger moth flying in the bright sunshine. There were many Marbled Whites and Small Skippers feeding on Knapweed in 5 acre field.
June 13th - I met a small group from the BSBI who intended to re-survey the extension fields. They first did this not long after BBOWT took over the ownership in 2007. We tackled River field first which was lush and full of tall grasses, sedge, vetches, Ragged Robin and Meadowsweet. A Roe deer watched us from beyond the fence which divides the field. At this point I had to leave so don't know yet the results of the day.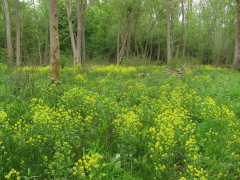 Winter-cress, Hogmoor Copse.
May 15th - There is a spectacular flowering of Winter-cress in the recent coppice plot near the lay-by creating a yellow carpet beneath the tall trees. Further into Hogmoor Twayblades are almost fully out. The Bluebells and Early Purples are still looking good. Near the end of our walk in Wigley field we saw a Roedeer sitting up against the fence by the new tree planting, after watching us it for a while it bounded off into Wigley Copse. We saw 3 Grey Wagtails near Hogmoor bridge, also a Kingfisher which flew upstream under the bridge.
May 2nd - Jan Haseler led a walk this afternoon which 14 people attended in uncertain weather. Jan estimated 200 Early Purples in Park Wood and 50 in Moor Copse. Large Bittercress was flowering well, also Goldilocks in its usual site near the gate but in last year's coppice plot too. Water Avens found in main ride Park Wood.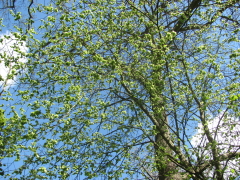 Wych Elm seeds, Hogmoor Copse.
April 27th - A quick visit to see the Bluebells which are almost at their peak, as were the Early Purple orchids. There were several white flower spikes among them. The hanging bunches of Wych Elm seeds shone in a flash of bright sunshine.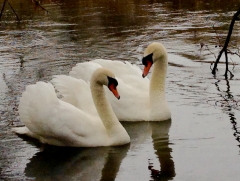 Swans on the River Pang.(photo Boyd Butler)
March 9th - A colder, grey day but lovely to see that the Primroses have suddenly all come out in flower, no doubt due to the recent warmth and sunshine. We saw about 15 Goldfinches in the top of one of the large Poplars in the 'Friends' coppice plot, and heard the loud song of a Mistle Thrush in the same area.
March 5th - Mid-week team were finishing off coppicing part of Harescroft Copse today, it was warm and sunny. We found some Spring Hazelcup fungus on dead stems of Hazel - see photo left. In the coppice plot in Park Wood, the warm sun had brought out the honey bees in the large Ash tree.
February 11th - A quick visit on a dull but peaceful morning. A Little Egret flew from the treetops close to the boardwalk. On the Pang 2 adult Swans and a Cygnet were quietly gliding upstream. I disturbed a Heron near the island, it took off and circled around before landing again behind me. Snowdrops are out on the riverbank and in the car park.
January 23rd - The 7 Dexter cattle passed their TB test and so were able to be moved back to Woolley Firs today to join the other 10 already there.
January 4th - Foggy and cold, the temperature just below freezing. We noticed some recent large molehills in Barton's field, there are also many in River field close to the riverbank. Not much bird song or activity, except an occasional Blue Tit, Robin and Wren, also a loud Nuthatch in Hogmoor. Lush green moss growth covering logs, stumps and branches very noticeable today almost psychedelically bright in the dull light. These King Alfred's cakes (see left) glistened like something much less edible on a moss covered log. On the Pang were a pair of Mallard and a Moorhen.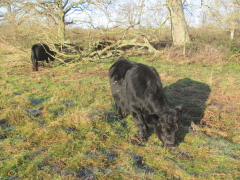 Dexter cattle in Corner field.
December 28th - A very cold sunny and frosty morning. A Buzzard perched in a hedgerow tree in Cottage Field flew off slowly as we approached. We were out here to check on the 7 Dexter cattle and found them in Corner and Barton's fields. A Pied Wagtail keeping them company tweeted and flew up into the Oak tree. Our presence also disturbed a lovely orange fox which ran across Barton's Field to the boundary with Moor Copse wood where it took shelter in thick bramble. In Park Wood BBOWT staff have been widening the ride by the bracken patch and have taken down some large coppiced Alder & Ash, see photo of an Alder left, which shows the characteristic glowing orange colour when cut. It was 30cms diameter and last cut c50 years ago.
November 2nd - We went out this morning to check on the cattle - 10 Dexters and 6 British Whites. The latter are being sold and will move off the reserve in the next week or so, sad to see them go, they are very attractive animals. It is still extremely mild and although the Ash leaves have fallen now, Oak and Hazel still have theirs. Spindle berries along the riverbank are just starting to open, and we saw a mixed group of tits fly into the treetops. Two Roe deer ran along the edge of River field. We looked at the hole high up in the Ash tree for the honey bees seen three weeks ago, but there was no activity apart from three Grey Squirrels who emerged one after the other from a large hole beneath the bee nest site.
October 17th - I walked through the reserve this morning with Ian, the Reserves Manager to look at the work planned for the winter, etc. It was unseasonably warm - a Common Blue fluttered in front of us while crossing 5 acre field, and we heard a Chiffchaff singing in Wigley field. The cattle will be arriving at the end of the month and will start off in River field before moving on to the other SSSI meadows.